Bob had always had an affinity and love for race cars. So much so, that his family pooled their money together to gift him an Indy driving experience. Unfortunately, the weather prevented him from being able to take to the track and the event never got rescheduled. Bob's daughter, Crystal, speculates that the reason her father loves cars so much is the amount of independence and "feeling of freedom it once brought him."
Sadly, Bob lost a tremendous amount of freedom about a year ago, when a spinal cord injury left him paralyzed from the waist down. On top of becoming wheel-chair bound, Bob has "lost" his wife, Betty, of 65 years due to dementia. His daughter, Crystal, took to the internet looking for solutions and ended up applying to Rendever's Expanding Impact.
"My proud father, who just a year ago was working outside on his tractor and taking care of his wife, now has others caring for him. If there was some way that I could bring some joy to my Dad's day, I would be so thankful."
We knew we could help. The family was awarded a two-month Experience Grant where they could try a multitude of VR experiences using Rendever's virtual reality system.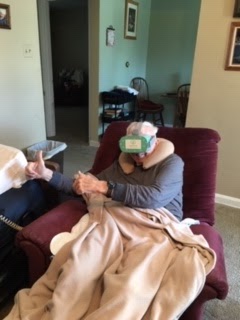 Crystal sent us a picture of her dad's first reaction to using the Rendever system. She shared, "He LOVED the race car driving and exclaimed, 'This is really cool!' Another favorite experience of his was the Animal Safari where the animals come up close to you."
Bob not only was able to realize some of his personal dreams but was able to share Rendever with his 17-year-old grandson, James. Crystal shares, "Just in general, finding something for a teenager to do with his grandpa was a great help. My Dad is very weak, so this was something they both could share and laugh together over."
Overall the grant was a success; dreams were realized, joy was experienced, and intergenerational relationships were strengthened. Crystal shares, "It was truly a great experience for my Dad. Aging is just so hard, and especially on the caregivers. Anything that can bring a genuine smile, a laugh… is such a blessing these days."
Rendever's Expanding Impact program just launched to help non-traditional customers enjoy the power of shared experience. Anyone can apply to receive a Rendever Experience Grant, giving them access to a short-term loan of our platform for any type of circumstances. Each quarter, we'll review submissions and select deserving families to grant a rental to, with everything they need. If you'd like to apply, additional information and a short application form are available at rendever.com/expanding-impact.