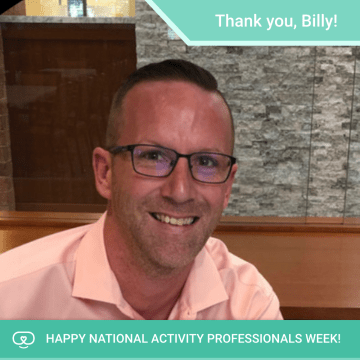 Our third spotlight of the week celebrates Billy B. from Beacon Hill! Billy is one of the most kind and passionate people you'll ever meet. At the young age of 17, he found his passion for helping others. He landed a seasonal position with the Chicago Park District helping children with special needs and explained, "after the first week I was begging my boss for a full time position. I got to see the difference that I was making in the smiles and laughter of the children – and I got to hear the immense gratitude from parents who would share things like, 'you don't understand what you did for my child,' or 'you gave us our son back!'"
The innate ability Billy had to help bring children out of their shell and help families (re)connect is at the heart of why he continued to grow his career as an activity professional. He has a gift for interpersonal relationships and approaches his work with residents at Beacon Hill with authenticity, respect, and positive energy.
"I can relate to just about everybody," Billy told us. "We all have our own unique views on different things in life, but I never let my views restrict my connection with anyone. My passion for what I do shows through my personality."
A true shapeshifter, Billy has excelled in a wide variety of roles. From developing a program to reduce the amount of medication used in a geriatric psychiatry hospital wing to dressing up as a jester for Mardis Gras and a leprechaun for St Patrick's Day, he can fill any gap (and does so with a huge smile!).
During these difficult times Billy has made a point to actively socialize with his 401 independent living and 110 skilled nursing residents as much as possible. "I make it my duty to walk around that building all day every day, to see my residents, to make sure they're smiling, to ask them how they are doing, to sit with them, and to just bask in the moment." These small moments of genuine connection and conversation are the true essence of what residents need.
We are full of admiration and gratitude, Billy! Thank you for sharing your spirit with all of us – you're an inspiration!
To learn more about Rendever, please click here to visit rendever.com.