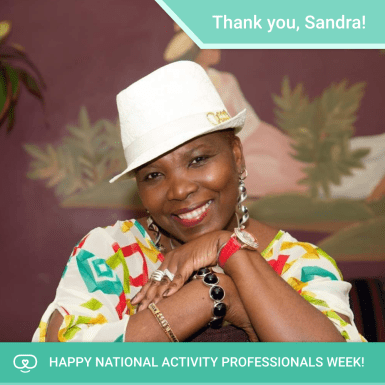 Sandra M., of Revera's Kennedy Lodge Long Term Care Home, has been spreading joy as a Recreation Manager for 23 years and still comes to work with a smile on her face every day. "It is not just a job, it's a career of choice and something that I am passionate about. I love working with my seniors and learning from them. If I were rich, I would do this for free!" Sandra told us with a laugh. "Being a Recreation Manager is so fulfilling."
Resident-choice programming is a large part of Sandra's approach. "Our residents should be in charge of what they want to do, so I let them make the calendar. We conducted a survey a while ago and our residents mentioned that they wanted more intellectual programming and weekly spa treatments. We listened, allocated our budget to their requests, and would you believe, the next year we got 100% satisfaction on the survey."
As we all know, 2020 was an unspeakably difficult year, but Sandra worked tirelessly to keep residents engaged and thinking positively throughout the COVID-19 pandemic. When she noticed that many residents had lost their appetite, she got creative. Approximately 85% of her residents are of Chinese descent, so she initiated a cultural cuisine program that featured delicious (and familiar) soup. The program was a huge hit and she had folks asking for more soup regularly!
Sandra also facilitated countless Zoom calls with families and loved ones throughout the pandemic. In fact, she hosted a virtual birthday party for a 104-year-old COVID-19 survivor the day before our interview.
As Sandra says, "it's all about the happiness and love you show your residents." Thank you, Sandra, for all the work that you do! Your upbeat attitude, creative ideas and tenacity has helped so many people, and we're incredibly grateful to work with you!
To learn more about Rendever, please click here to visit rendever.com.