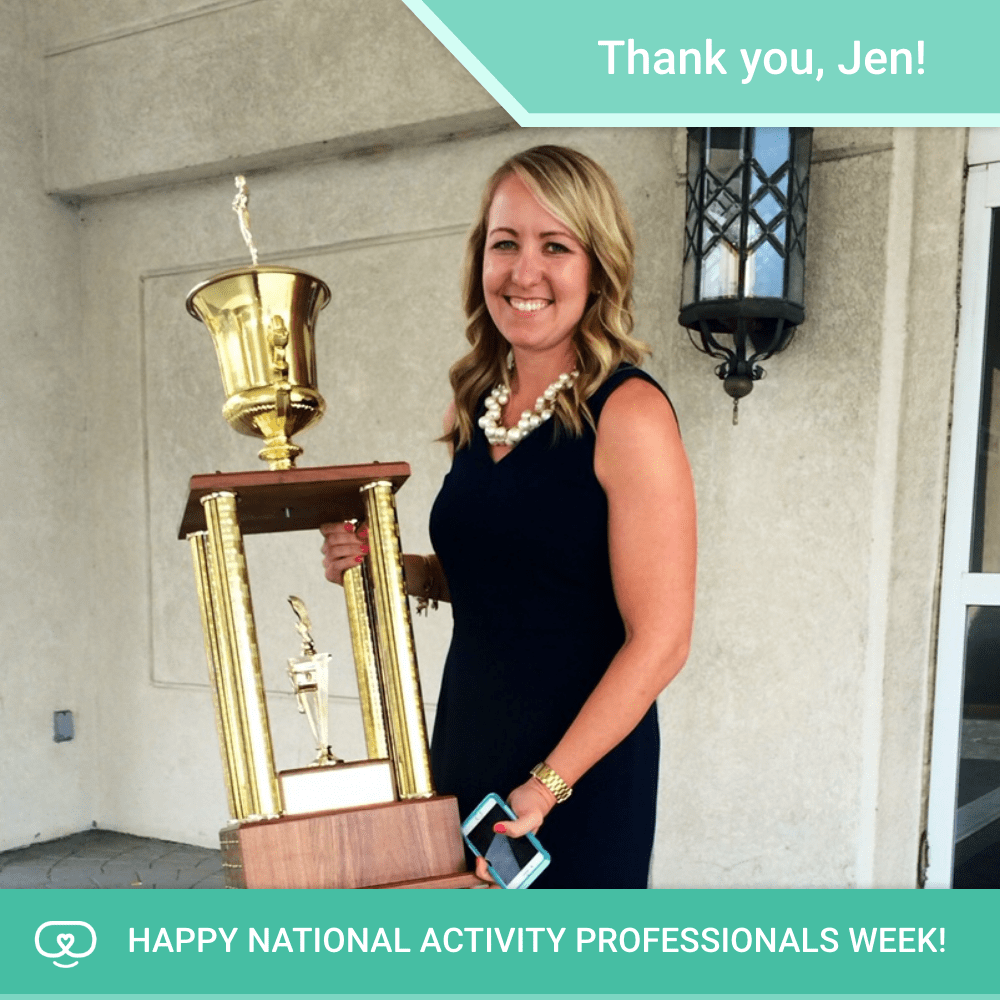 As the week wraps up, we'd like to congratulate our final featured Activity Professional of the year: Jen S. from Brandywine Living in Mt Laurel Township, New Jersey.
Jen developed a passion for working with seniors at a young age, when she spent quality time with her grandmothers – whether going on adventures to visit friends or playing Bingo together at the local community center. "I liked being with seniors and just really wanted to spend time with them, help them, and make them laugh," Jen told us. It is this passion that has inspired her to care for seniors in different roles through high school, college, and still today at Brandywine Living.
FUN is one of the key elements to Jen's approach to activities. For example, one night Jen entertained her residents with an evening of mischief. "We all dressed up, put black underneath our eyes, and went outside with glow sticks. We tagged some of the other senior living buildings with magnets with our logo on it, and put our flag on their lawn… it was just so fun and silly… I just want to keep on doing things like that."
Even though this past year has been tough and she hasn't always felt like laughing or smiling, she does it anyway – to lift the spirits of her residents. Along with Jen's personal mission to bring joy to the older adults in her community, she has taken on extra responsibilities during the pandemic like helping families connect over video calls, or taking a video of a museum her residents wanted to see, or even helping people with practical things like taxes.
"Because families can't come into the facility, I have stepped into a daughter-type role. I have learned so much about these families now. There is such a bond. We are all family together right now." Filled with hope, Jen and her residents have already made a list of all of the things they plan to do after quarantine. Some of them include card playing, fishing, and of course having families come inside to enjoy a meal with their loved one. Until that day comes, Jen will continue to make her residents laugh everyday.
Thank you, Jen, for everything that you do!
To learn more about Rendever, please click here to visit rendever.com.