Best Resident Engagement Technology for Senior Living
by Katie Little on Oct 19, 2022 1:02:01 PM
The world of senior living is not what it used to be. As the population of non-tech users in the Baby Boomer generation shifts to tech users in Gen X, senior living communities are looking to adopt innovative technologies that are considered home comforts by many. As a company that is made up predominantly of millennials, members of the Rendever team frequently ask ourselves, "What do we want the future of senior care to look like?"
Resident engagement is key. Thriving communities start with thriving individuals, and resident engagement technology opens a lot of doors that empower people to thrive. The space has evolved greatly in the past 10 years, so senior care communities are asking where to find the best technology to spark engagement amongst residents. The technologies listed below are the current trends that we are seeing in resident engagement technology today.
Virtual Reality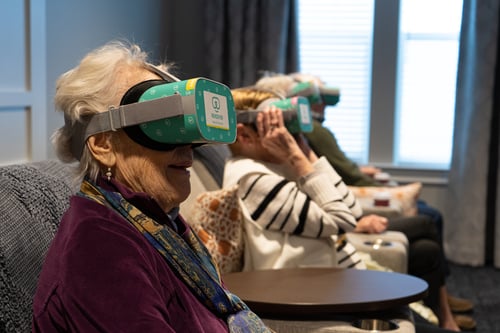 Seniors participating in a Rendever virtual reality experience. Credit: Rendever
At the risk of sounding biased, there's a good reason that virtual reality is at the top of this list. Research shows that virtual reality, commonly known as VR, provides incredible benefits all throughout the aging process. VR for seniors has been shown to dramatically reduce depression, decrease pain, increase closeness and satisfaction within family relationships, and even improve widespread social engagement within senior living.
Spectrum Retirement Communities (@srcommunities) became TikTok famous overnight when their community residents began to showcase how much fun retirement can truly be. To add to their fun and forward thinking activity programming, they threw Rendever into the mix and immediately saw the joy and impact. According to staff, residents cannot get enough of it!
"Since launching this pilot program, we've seen our participation rates in community activities double," said Jim Faust, Director of Entertainment and Programming at The Oaks at Algonquin.
While Rendever is already leading the way in VR for seniors - with hundreds of partners using our resident engagement platform - we're not stopping there. This past year, we launched RendeverFit™, which brings our approach of positive shared positive experiences to the world of fitness. It's a holistic approach to resident engagement that combines socialization with physical exercise and cognitive stimulation. Marquis Healthcare was one of the first adopters of RendeverFit™ and they're seeing great results, check it out below:

Marquis launches RendeverFit™ to deliver better physical fitness for senior living residents. Credit: Marquis


SingFit Music Therapy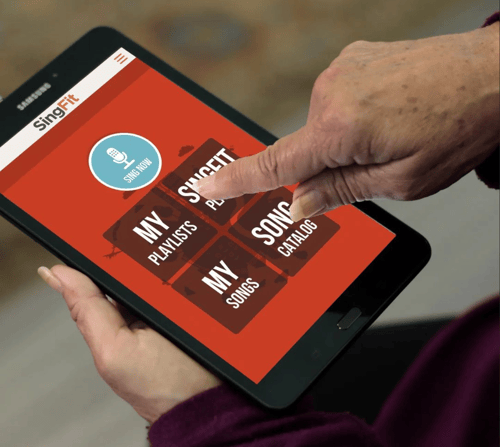 SingFit program in use. Credit: SingFit
Everyone has that one song (or many) that takes them back to a certain moment in their life. Maybe it was a song that you screamed at the top of your lungs at a concert. Maybe it was a song your mother used to sing while she was cooking dinner. Music has the power to heal, and that is what SingFit Music Therapy is all about!
SingFit is a technology platform that dramatically expands access to the proven benefits of therapeutic music to improve their health. This solution empowers healthcare professionals, caregivers and individuals to utilize music as medicine on a mass scale. The SingFit app utilizes a Lyric Prompting track for failure-free singing, leading to meaningful music-based sessions for of clients with various medical conditions.
Outside of SingFit Music Therapy, other organizations have realized the healing power of music and have pursued the data behind it. Northwestern University recently published their first phase of an NIH supported study. This study found that through listening to music together, an emotional connection between patient and caregiver is created or strengthened. You can read more about the study here.
Zoom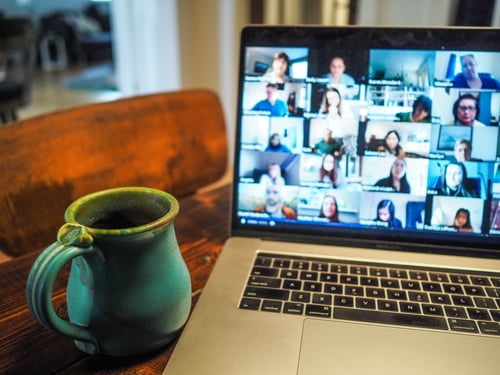 Zoom meeting. Credit: Unsplash
I know what you're thinking. Not another Zoom call! While the professional world has been running on Zoom over the past couple of years, not everyone has been subject to Zoom fatigue. Seniors, especially during the pandemic, have begun to regularly utilize Zoom to stay connected and engaged with their loved ones, whether they be down the road or across the country.
Zoom meeting statistics show us that the growth from 10 million in 2019 to 300 million in 2021 occurred over the course of only two years. This figure represents an increase of over 2900% since the fourth quarter of 2019. In December 2019, there were 10 million meeting participants per day on the platform. Now, there are over 350 million participants.
In fact, we're even studying the use of Zoom as a modern method of family engagement, specifically for people with dementia. It's part of a larger clinical trial we're conducting on virtual family engagement, which you can read about here.
If you need help getting started, or have a loved one you'd like to get set up, AARP has plenty of resources available for you.
Alexa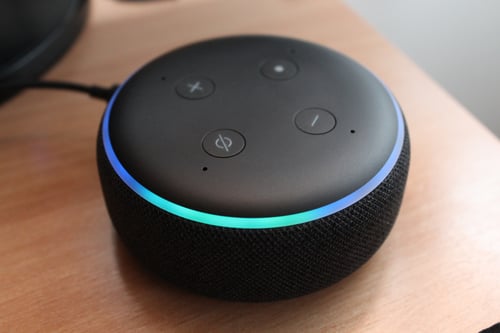 Amazon Alexa. Credit: Pexels
Even before the COVID-19 pandemic, Alexa devices were rapidly becoming ubiquitous in the senior market. Viral videos, like this one from Patriotic Kenny, showed that, while many use Alexa for managing their day-to-day lives, there is a big opportunity to find joy in the interactions with the technology.
Of course, it doesn't stop there. Implementation studies have shown that older adults are also adopting the technology to help navigate their daily lives. A study from Front Porch found that 100% of participants "felt that their device overall helped make life easier." The statistics speak for themselves. With a response like that, the $29.99 retail of the device makes it a small investment for some great impact, at least on an individual level.
Eversound Headphones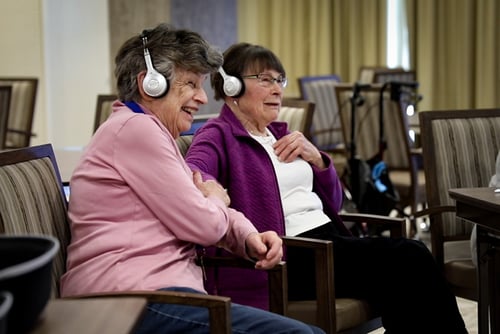 Seniors enjoying Eversound headphones. Credit: Eversound
Did you know that those who experience hearing loss are at higher risk of getting dementia? According to a Johns Hopkins study, those who have mild hearing loss are twice as likely to experience dementia, individuals with moderate hearing loss are three times as likely, and people with severe hearing impairment are five times more likely.
How do you combat statistics like that? Through technology developed specifically to help engage those with hearing impairment. Eversound has developed advanced listening systems, designed for use in senior living communities, to enhance seniors' ability to hear and focus. This wireless technology allows residents to continue participating in their favorite activities with the confidence of knowing they will be able to hear all the action along the way. Each headphone has its own volume controls so it can be personally adjusted by the user, and it has seen use in everything from resident engagement to touring communities.
Live Programming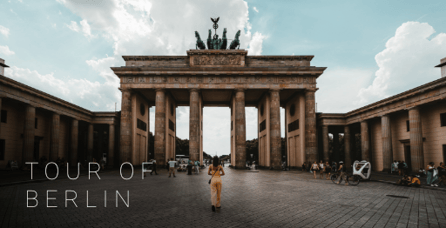 RendeverLive™ live programming example, Tour of Berlin. Credit: Rendever
We know a little bit about live programming here at Rendever. We offer live programming in VR with RendeverLive™ five days a week, often multiple times per day. We're delivering over 15 hours of programming each month, where residents and staff in community settings can engage with our team and other partners in real-time.
But this isn't wholly about us. There are others out there who have taken the initiative to engage with seniors who have opted to age in place. Virtual Senior Center (VSC) launched over a decade ago and offers older adults regularly scheduled innovative and interactive programs, cultural experiences, discussion groups, and chats all from the comfort of home.
There are other live programming channels that have built a portion of their content library specifically for seniors. These are easiest to find after the stream has ended if it's made available on-demand. For example, Yoga with Adrienne has a Yoga for Seniors section, and while it may not all be great or well-designed for residents, it might be worth trying her chair yoga class.
On-Demand Programming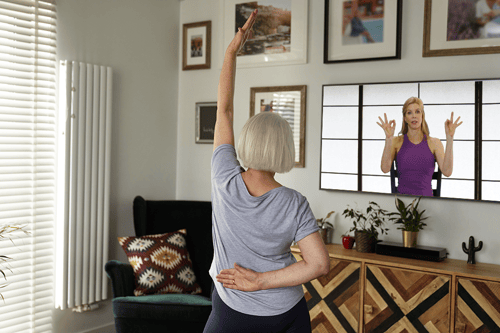 Senior experiences an on-demand exercise program. Credit: Engage360 by Sentrics
On-demand programming has been taking the senior market by storm over the past year. There are a number of platforms that enable this - from Engage360 by Sentrics to Touchtown's network of integration partners - with easy access from a resident's television. Residents can watch on-demand programming through these platforms from the comfort of their own rooms. Programming includes everything from workouts to meditations and educational programming. Engage360 has taken a data-centric approach, which makes it a great asset to the community as it provides access to staff to understand what residents are enjoying. From this data, staff and other community members can get to understand the resident even more.
The on-demand programming space is still ripe with opportunity, and there's no doubt it will continue to grow. This is evident based on what we hear about RendeverLive™, our number one requested feature is access to past live sessions on-demand. Everybody is asking for it. So, clearly, we're building it. If you want first access when it launches later this year, sign up for updates here.
When looking at technology for resident engagement, ask yourself, "What would I want for myself, my parents, or my grandparents?" Each generation may have different interests, but collectively we all crave a thriving lifestyle fueled with purpose; a marketable resident engagement technology suite can enable this. If your grandmother loves going to the casino, great! She can do that through iN2L. Maybe your dad really enjoys learning about different regions of the world. Perfect, he can participate weekly through RendeverLive™. As you you know now, technology makes it easier than ever to build an aging lifestyle we can all get excited about. In fact, using the solutions mentioned above, and staying updated on what's yet to come, will allow us all to provide a better aging experience for the older adults of today and tomorrow.
No Comments Yet
Let us know what you think