Magical Moments Through Live Programming
by Sara Thyden on Oct 31, 2022 9:22:28 AM
My favorite magical moments while hosting RendeverLive™, our award-winning live programming platform for seniors
Growing up, I dreamed of becoming a tour director. Leading up to vacations with my family and friends, I would spend hours planning out ideal itineraries and researching the destination so that I could become an expert. Each time, I would consider activities that I knew would spark excitement in my family members, and I would light up with joy seeing them enjoy themselves. After, we would discuss for hours, sharing our favorite moments and reminiscing over how they connected to our interests and past experiences.
Today, I am thrilled to say that my dream has come true – and it is more magical than I could have ever imagined. I am one of the many passionate hosts for RendeverLive™, an award-winning resident engagement platform with daily live programming for seniors.
Every day, we offer unique and exciting RendeverLive™ sessions. Hosts like myself can guide residents through engaging tour experiences through the power of virtual reality. Each session features 1 of over 300 Activity Guides featured on our platform. Rendever's Experience Team specially curates activity guides to feature a wide variety of topics, themes, cities, and countries that we know would engage residents. One day, our RendeverLive™ host is a park ranger, guiding residents on a hiking tour of Yosemite National Park, and the next, we are taking them back in time to the 1950s. Each live session is different from the next, and every day that I host, I look forward to the live interactions and shared experiences to come!
One of my personal favorites is our weekly book club session. When I was a little girl, reading stories with my grandmother was one of my favorite ways to bond with her. She would read the story using fun voices and discuss each picture in detail with me. As we would read together, we imagined that we were there with the characters, experiencing the excitement of each plot in real-time. During one of our RendeverLive™ brainstorming sessions, these memories inspired the idea that, using the power of virtual reality, we could transport people into their favorite stories. Thus, our virtual reality Book Club for seniors was born.
During a book club RendeverLive™ session, RendeverLive™ hosts like myself read classic short stories and poetry to residents as they experience the setting in VR. From spooky classics like "Dracula's Guest" to nostalgic stories like "The Velveteen Rabbit," each live session differs from the next. The video linked below discusses some of my favorite magical moments shared during book club. Every time I reminisce on these memories, I can't help but smile and look forward to more sessions to come!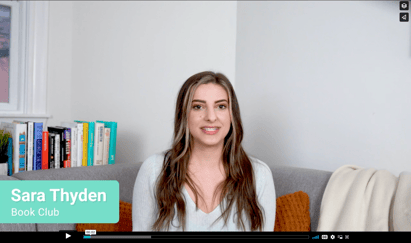 Book Club for Seniors, Credit: Rendever
As you can see, so many marvelous interactions come from book club. These sessions are educational, immersive, and lead to special moments and fascinating discussions.
Along with book club, we feature a handful of specially themed RendeverLive™ sessions. Different types of magical moments occur in each session, bringing a new element of excitement to hosts and viewers. We curate each to be meaningful to everyone, but the beauty of live programming is that reactions occur in real time; we never know when a moment can turn into something truly special!
Below, is an example of a magical moment that occurred during one of our Tuesday/Thursday Travel and Culture RendeverLive™ sessions.
RendeverLive™ session, Credit: Rendever
In our Territories of Canada session, many residents took to the RendeverLive™ community chat to share the temperature from where they were each tuning in. This interaction was initiated by one of our expert hosts, Dave, after he shared how cold it was where he lives (Canada, eh?). Dave's comment started a chain reaction of residents sharing details about their day - including some enjoying warmth and sunshine, making Dave rather jealous! But then we found out that Dave wasn't alone, as a few residents shared and bonded over how they once lived in Nunavut, Canada. Each was shocked to learn another has lived in Nunavut because it is a very unique place to live - the entire Canadian territory has less than 40,000 residents!
In another Travel and Culture RendeverLive™ session, we traveled all across the globe visiting wildlife in their natural habitat. One of the interactive poll questions was about cattle, and many residents had a lot to share:
RendeverLive™ Trivia, Credit: Rendever
As you can see in the screenshot above, residents wanted to do more than answer the poll - they wanted to add their personal stories in the community chat for all to hear. This is the perfect example of how our open-ended polls can lead to engaging conversations between communities. We do love our trivia questions, but these polls do amazingly well at prompting residents to actively reminisce about past jobs, pets, and memories!
Because RendeverLive™ encourages participation and interactions, we often open up polls asking for suggestions on future sessions. One of my favorite requests that we fulfilled was reading the entirety of "Little Women" by Louisa May Alcott to welcome the spring season. The sessions were spread out throughout an entire month, and we had seniors excitedly attend each week to step inside this beloved story. After we completed "Little Women," a community who participated with us, Oakmont of East Sacramento, was excited to share that they loved the story so much they watched the movie after the session was complete!
From reminiscing about classic tales to exploring exciting destinations for the first time, RendeverLive™ is a truly one of a kind experience, and is a highlight of my week. Being there with each participant and experiencing an exciting story together in virtual reality brings so much joy. Together, we share laughs, learn new things, and enter worlds we never imagined through the power of VR. Between these moments and the countless others that have made me tear up, smile wide, or burst out laughing, I can not think of an experience more magical than RendeverLive™.
No Comments Yet
Let us know what you think