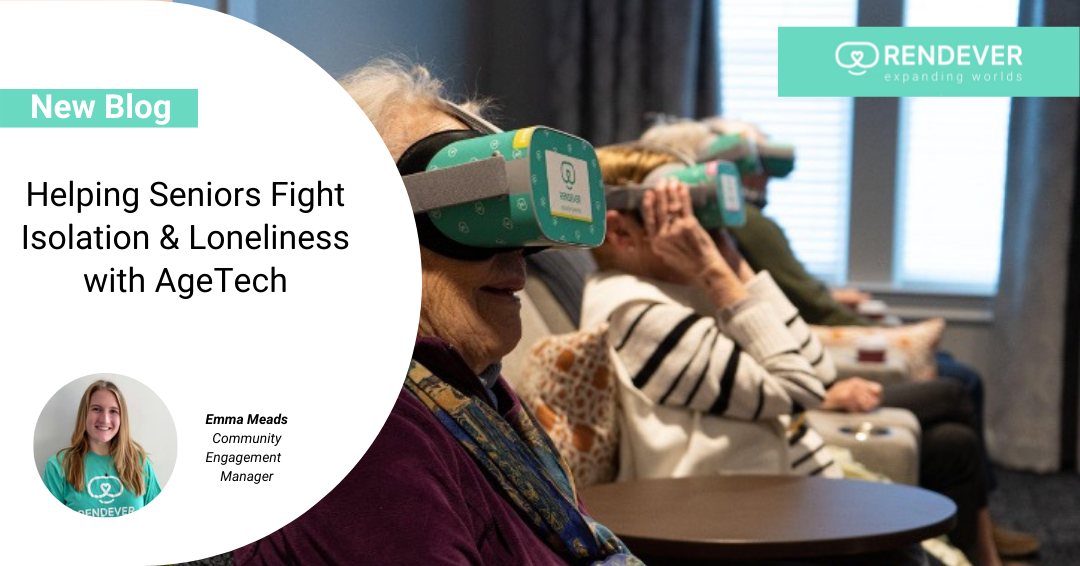 What are the first three words you think of when I say "senior living?"
Here are the most frequent responses I've heard: loneliness, boredom, isolation…..
Sadly, it's a common misperception that once you enter the front doors of a senior living community, you simply sit there and twiddle your thumbs, staring at walls and idly wait around until your time on earth is over. That's what I thought, too, until I learned about age tech.
When I got my first job working as a part-time server for a senior living community, I would downplay my job when people asked– "Oh, I just work at a senior home," frequently throwing in the word "just" as if to mop up my own embarrassment.
After a few months, I eased into the job and realized how privileged I was to work with these older adults. They are vessels of knowledge, experience, strength, and triumph – all with so much yearning and desire for connection.
While working at the receptionist's desk, a resident - let's call him John - gloomfully wheeled his way forward and said, "I just want to die. I'm living here, but I'm so lonely. I don't feel like there is much more for me." At the young age of 19 years old, I felt hopelessly inadequate to support this man. I looked up and tried my best to express compassion, but of all the words I could think of, none held the strength needed to comfort him. From that moment, I knew something needed to change. How can we create and deliver positive experiences that ignite vitality in our communities so residents like John feel like there is more life waiting for them?
Yes, bingo and movie nights can fill their time, but where are the experiences that profoundly shape their identity and deepen connections with others? Life enrichment and programming are to be awarded equal space alongside all other forms of care, and investing in technology for the elderly is the best means to do so.
Rightfully so, there are ample resources dedicated to residents' physical health. Still, I want to create an aging experience that engages all facets of physical, cognitive, social, emotional, and spiritual identity.
John's story, amongst many others, inspired me to continue working in this AgeTech industry.
What is AgeTech, and how is it helping the aging population?
AgeTech, also known as "age technology," is technology that has been purposefully designed and built specifically for the aging population, and it represents a pioneering monumental change in the senior living space. For a long time, technology has been deemed too difficult for older adults to use. But, with brilliant innovators set to change this, technology is slowly taking the forefront of aged care.
Aside from the need for technology to enhance life enrichment, the World Population Aging Report has frightening data that by 2050 the number of older adults will have increased from 12% to 22%, and people over 60 will outnumber children. In summary, there are more older adults needing assistance than we can provide. This leaves much opportunity for technology to support the lack of caregivers that will be available within the next few decades.
Expanding social connections with Virtual Reality
When I found Rendever I knew this company was set to transform the industry. Rendever's mission is so intimately aligned with my own, and each day I work with the purpose of reducing loneliness and isolation through the power of shared experiences and digital engagement. Rendever is revolutionizing the aging experience – seniors are creating meaningful connections by traveling together beyond the four walls of their community, checking off bucket list items, and reminiscing on the good times with the ones they love. With technology for the elderly, you don't just talk about past experiences but truly relive them with others.
This is why I do what I do, for the people like John who, more than anything, deserve the jovial experiences that ignite vitality in the senior living space and build the thriving communities our aging population deserves
When talking with an Activity Director, she mentioned that she learns more about residents from their obituary than from their time living in the community. Although bridge games and painting classes are entertaining activities, they likely don't curate a space to deepen and expand social connections.
For example, I brought Rendever to my family's Thanksgiving dinner, and while the turkey was finishing roasting, we all visited Moab and Arches National Park, a place that holds great meaning to my Grandma and Grandpa. I knew that this national park was one that they immensely enjoyed on their cross-country road trip but actually, to see my grandma exude pure happiness, it was a bonding experience that words and still photos could not create.
With Rendever, participants can engage with the world in ways they never thought possible; they can travel on camelback in the Sahara desert with friends or family, take others back to meaningful locations from their past, and not only talk about previous experiences but truly relive it with others.
After receiving my bachelor's degree in psychology, I set out to work for a company committed to providing meaningful engagement through new technology for the elderly. I'm so thankful to have found my home at this company, I know Rendever is changing the world of aging for the better.