TIME Names Rendever to list of 100 Most Influential Companies 2022
by Rendever | March 30, 2022 | 0 Comments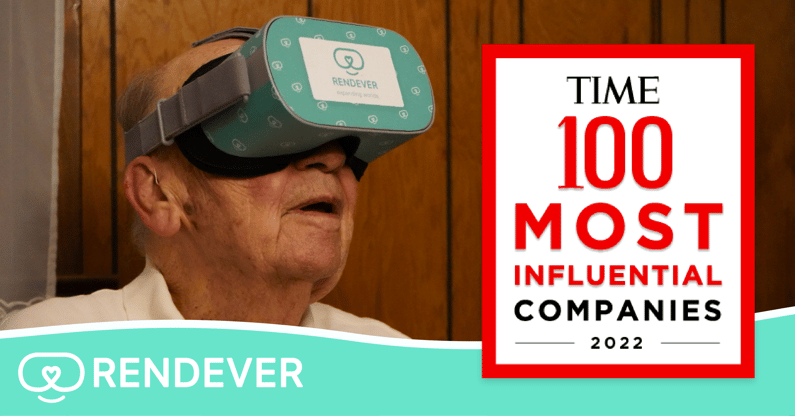 Rendever is overjoyed to announce that we have been included in the 2022 TIME100 Most Influential Companies list. The second annual list of TIME100 Most Influential Companies —an extension of the annual TIME100 list of the world's most influential people—highlights 100 companies making an extraordinary impact around the world.
Reducing social isolation: About Rendever's Mission
On a mission to help reduce social isolation among seniors worldwide, Rendever rapidly expanded its offerings and increased its reach over the last two years when isolation and loneliness in senior living communities were at their peak. Rendever's VR ecosystem saw the addition of RendeverLive™ and RendeverFit™ since the beginning of the COVID-19 pandemic, both of which use shared immersive experiences via virtual reality to fight health risks like dementia and depression. For its aid during the global pandemic, RendeverLive™ received a special mention on the 2021 TIME Best Inventions list.
"At Rendever, we've been leading the charge of 'VR for good' companies for years, showing how impactful the metaverse can be for those whose lives have become limited all across the world. With the recent launch of RendeverFit™ and expansions with RendeverLive™, we're diversifying our offerings while breaking down barriers and increasing access to drive wider impact. In light of all of this and the impassioned dedication our team has shown, receiving this recognition is momentous for us, and a bright spot in motivating our industry's evolving approach to building a healthier, happier, more connected aging experience for all of us."
Kyle Rand, CEO of Rendever
Helping over 450 communities worldwide stay happier and healthier
Nowadays Rendever provides services to over 450 communities including expansions into Oakmont Senior Living, Monarch Healthcare Management, Marquis Healthcare Communities, and UCHealth, and In total, over one million VR experiences have been delivered to older adults around the world.
Additional Rendever's rewards and recognition
In addition to TIME's recent recognitions of Rendever, the company has also been ranked in the 2021 Inc. 5000 list, CB Insight's 2021 Digital Health 150, BostInno's 2021 Fire Awards, and won one of the Anthem Awards' Responsible Technology: Best Influencer Endorsement category awards for its work with GB & Me.
Would you like to learn more about how Rendever can help your community?
Schedule a demo to learn more about how we can help you achieve a happy and healthier community.