Simplifying the Senior Activities Calendar with Rendever
by David Stoller on Mar 4, 2022 11:13:18 AM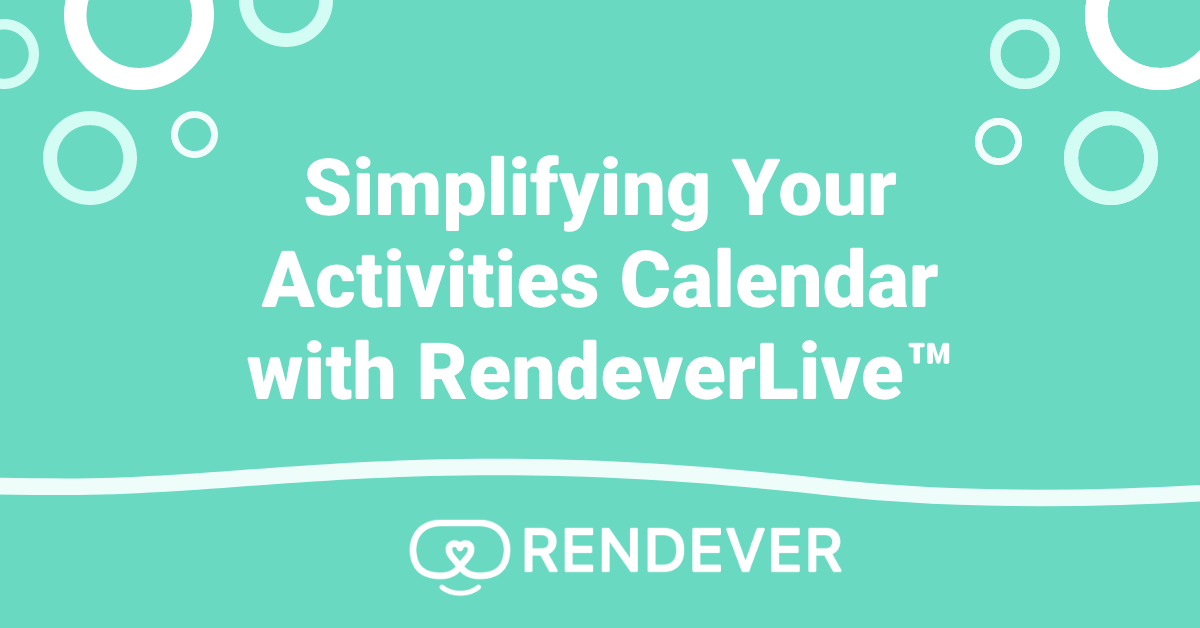 Many of us got into this industry because of a special intention we all carry, a feeling that compels us to give back to the community in which we live, and support those members of the community who came before us. For Activity Directors, this often presents itself in the planning and delivery of recreational activities for senior citizens.
For those who find themselves working at senior living communities, hospitals, nursing homes, and retirement residences, the past two years have made it increasingly difficult to live up to that intention. In the continued aftermath of what was hopefully the worst of the Covid-19 pandemic, we're still seeing challenges like staff shortages and lower occupancy rates leading to difficulties in resource allocation. What's more, staff are coming out of two of the most difficult years imaginable, and any continued burden builds the risk of burnout.
It has been ever-more challenging to schedule activities for seniors, especially ones that reach a wide variety of interests, and delivering those activities can also come with new challenges. Finding the time to deliver meaningful activities has become increasingly difficult amidst the growing list of responsibilities staff are taking on.
In short, planning and delivering activities in a senior living environment is a lot harder than it used to be.
Addressing challenges in senior communities
At Rendever, we recognized challenges early on in the pandemic and took fast action to innovate so we could support staff as they balance the new demands of their role and find new ways to deliver recreational activities for senior citizens. It wasn't long before RendeverLive™ premiered in the summer of 2020, broadcasting live programming every Tuesday and Thursday to our partners located in the United States, Canada, and Australia.
As the waves of the pandemic continued, RendeverLive™ charged on and presented a leg up to all of our partners. Soon, RendeverLive™ was helping Activity Directors deliver meaningful life enrichment activities for seniors in their community, moving the needle in a significant way towards a new era of engagement. and at the same time, offering reprieve from the new daily pressures of their role.
It wasn't long before we heard back from community partners, who shared with us that having a RendeverLive™ calendar, prepared and shared in advance, would be a major help supporting the delivery of meaningful activities for seniors. So, we took that to heart and aligned our resources to publish RendeverLive™ calendars on a timeline that would give activities staff the ability to rely on RendeverLive™ as one of their premiere offerings, with RendeverLive™ calendars now published months in advance. Today, our calendars are published with at least a 90-days lead time - significantly supporting the scheduling and planning efforts of our partners.
Moreover, we heard that offering a variety of experiences was important to welcome more residents into RendeverLive™ sessions, and would bolster how our partners were delivering these engaging activities for seniors. Adding more variety would expand the appeal of RendeverLive™ and allow the sessions to connect with people in a way that allowed happiness to break through the feelings of loneliness and isolation from covid. Based on that feedback, we increased the variety of programming available on RendeverLive™ to include options that match what residents across the world are looking for.
Today, we provide meditation, music, travel, adventure, and cultural experiences that engage our audiences week after week. We've started hosting an international book club, and look forward to both the camaraderie and competition that naturally evolves at our weekly trivia sessions. There's no doubt that the connections we've built bring beaming joy and a sense of belonging as residents attend their favorite session. Just read what Lucie Jackson, from Revera's Glenwarren Lodge, had to say:
"One of our residents attends the RendeverLive™️ sessions as often as he can, especially Trivia. During one of his experiences, he shared that he met Elizabeth Taylor and Richard Burton when the two were shooting a movie in Mexico. He also enjoys showing off his extensive knowledge of marine biology, especially whales. Your RendeverLive™️ host mentions our resident regularly when these names or topics come up, and we wanted to let you know the personalized comments have had a very positive impact on his life."
Flexible Live Programming Activities
Finally, timing is everything…especially when you consider that we're building a community that spans multiple time zones. We have made sure that RendeverLive™ programming is available at various times throughout the week, making it available to everybody - no matter where you are located. Some of our sessions take place in the morning, others early afternoon, and some are closer to dinnertime. Whether you're on the east coast or the west coast, there's at least one session scheduled perfectly for you.
The results have been nothing short of inspiring. Since RendeverLive™ launched, over 270 communities have enjoyed these experiences, representing over 3100 individually attended sessions. Numbers like this reinforce the enormous value of RendeverLive™ and inspire our team to continue innovating and developing this incredible program.
Most recently, we have committed to hosting a "Can't-Miss Session," on the third Wednesday of each month. In January, we delivered a live cooking class from Italy, and in February we provided a special presentation from one of America's greatest Olympic athletes. In two short weeks, we'll have an Irish Folk Singer join our St. Patrick's Day celebration - music is a favorite, so we're looking forward to the turn out! All-in-all, each of these sessions sets a clear example of our intention to delivery the best, and we continue to double down on highly engaging programming.
This pays off in meaningful ways at the community level. RendeverLive™ provides a way to connect with residents that staff has never seen before. Here's what Alma Lopez from Oakmont of Fullerton had to say:
"One of my favorite parts of RendeverLive™️ is learning new things about my residents. Randomly one resident will get excited because they've been to that place before or they know something about the location and want to share. RendeverLive™️ is always a new tour and place, so it gives us unique opportunities to learn more about our residents while they enjoy the VR session!"
Award-winning activities for seniors
Finally, thanks to the incredible work Rendever's team has put in to deliver the best for our partners, we can celebrate some major accomplishments and awards. In 2021, RendeverLive™ was honored on the list of TIME's 100 Best Inventions of 2021. This was a remarkable achievement that only goes to showcase how valuable this program is in delivering meaningful, and valuable, recreational activities for senior citizens.
Click this link to learn more about TIME's 100 Best Inventions of 2021
Bolster your life enrichment activities for seniors
Rendever has delivered over one million moments in VR, each one of them special and meaningful. Now, you're invited to join us for the next million - and it's never been easier to get started.