Making the jump to build a new product is an emotional decision. It's scary to diversify, it's risky to lose focus, it's challenging to align resources to make sure that the product launch is a success. As a company that is frequently recognized for its strong approach to UX, this has been so much harder over the course of the pandemic. In the past, we built the core Rendever platform through constant iteration and live testing. We had ample opportunity to spend time with our community partners and use our platform with each demographic we intended to impact. Feedback loops were quick, and returning onsite for additional testing sessions with exciting updates was easy.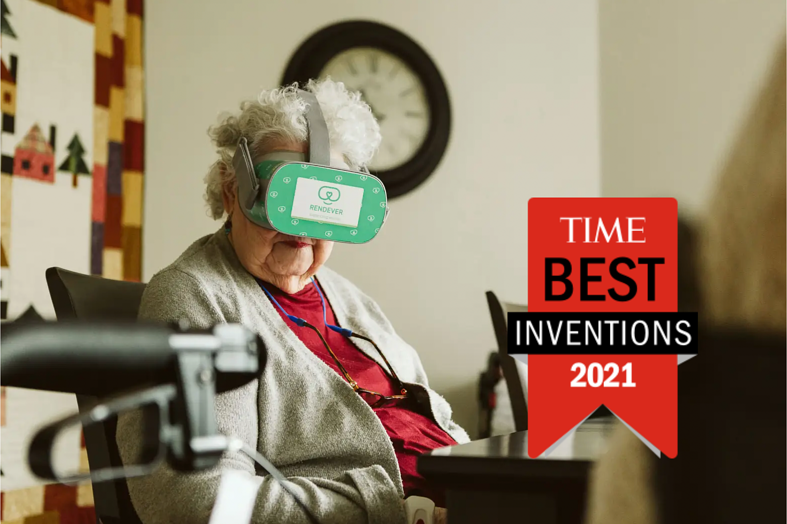 This hasn't been the case over the past year and a half. So when we received the news that we were honored amongst Time's annual list of Best Inventions for RendeverLive™ - a product that was built, tested, and deployed entirely during the pandemic into some of the most at-risk communities - I recognized that it's so much more than an incredible achievement for our team. This award is an acknowledgement of how successfully we've integrated our care and understanding of the industry into the company's mission, culture, and approach to execution.
We created RendeverLive™ to help with severe staffing challenges that have grown over the past year, and designed it to empower locked-down communities to thrive through connecting with others and with the magic in the world. The need was immense, and we knew there was an opportunity to deliver something meaningful - not just for residents, but for staff who were in desperate need of some relief. After countless conversations with staff who made their pain clear, we knew the risk was worth taking, and we worked rapidly to deploy RendeverLive™ and empower better programming through a supportive, connected network.
Today, we offer daily and diverse live programming that spans travel, live music, mental health programming, and more. It's been crafted in a way that enables staff and caregivers to take a pause from being "on," take a breath, and comfortably join in on the fun. Our internal team works tirelessly to design exceptional experiences and then jumps in to deliver an engaging session for our community partners across the world. Whenever I take a moment to step back and think about it, this platform is creating something truly beautiful: a thriving community extending beyond the four walls of any building.
Perhaps what I'm most proud of is the fact that our team made an intentional commitment to learn throughout this process, and that mindset has been embraced wholeheartedly across the organization. I'm sure nobody anticipated being asked to sing happy birthday live on camera in front of hundreds of communities…but our team has consistently turned towards the opportunity to engage and learn through the process, and as a result magical moments like this have abounded since launching. We've had the chance to celebrate individual residents as a community, watch as teams in Toronto and California compete weekly to be crowned trivia champion, interview a 92-year-old honoree of the Guinness Book of World Records, share in the memories of our favorite vacation destinations and hear similar stories from residents who loved the same places - all live. We even had a senior living community member offer to have an Arnold Palmer delivered to our office because I mentioned being thirsty while on-air. That's the kind of community we're building, and it's a delight to be a part of.
I believe we're only beginning to see what's possible through this approach to programming. Enacting and leading with a mentality of open-mindedness has allowed for this platform to consistently push the boundaries, exceed expectations and surprise us; we have learned how to design better experiences, inspire authentic dialogue, and deliver something that people look forward to each week.
We have big plans for RendeverLive™ in 2022, and this recognition is both an honor and a source of motivation. We've made RendeverLive™ accessible to communities across the world, without requiring our full VR platform, in order to deliver some of this magic more broadly. I hope you join us next year.
- Kyle Rand, Cofounder & CEO
To learn more about RendeverLive™, click here.