The Magic of Selling the Future: Rendever Resident Engagement & Beyond
by Nicholas Abruzzo on Dec 3, 2021 2:15:34 PM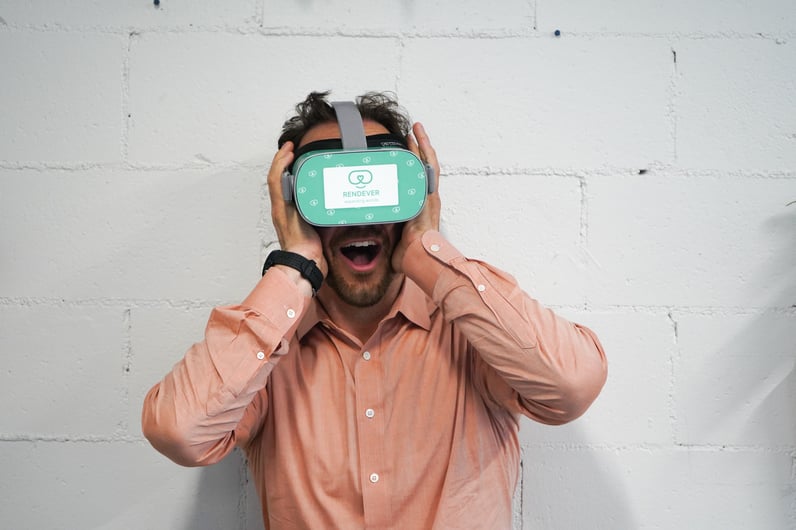 December 3, 2018, marked the start of my ongoing adventure with Rendever, and what an exciting three years it has been. Thinking back to my first day at Rendever, I can't help but smile when I see how far we've come and think of all the possibilities for the future.
I'm forever grateful for my then-girlfriend-now-wife Leigh Anne's support during my job search. We moved to Boston, our new city and home for Leigh Anne's job, without a network of friends or family in September of 2018. It was important to me that any company I pursued was focused on tangibly improving the lives of others and lived this daily through their mission. My requirements restricted the types of companies I'd consider working for, increasing the amount of time it would take to find a new role. Thankfully I found Rendever and met the cofounders, and instantly knew they were precisely what I was looking for in a new company. That same belief in Rendever continues today.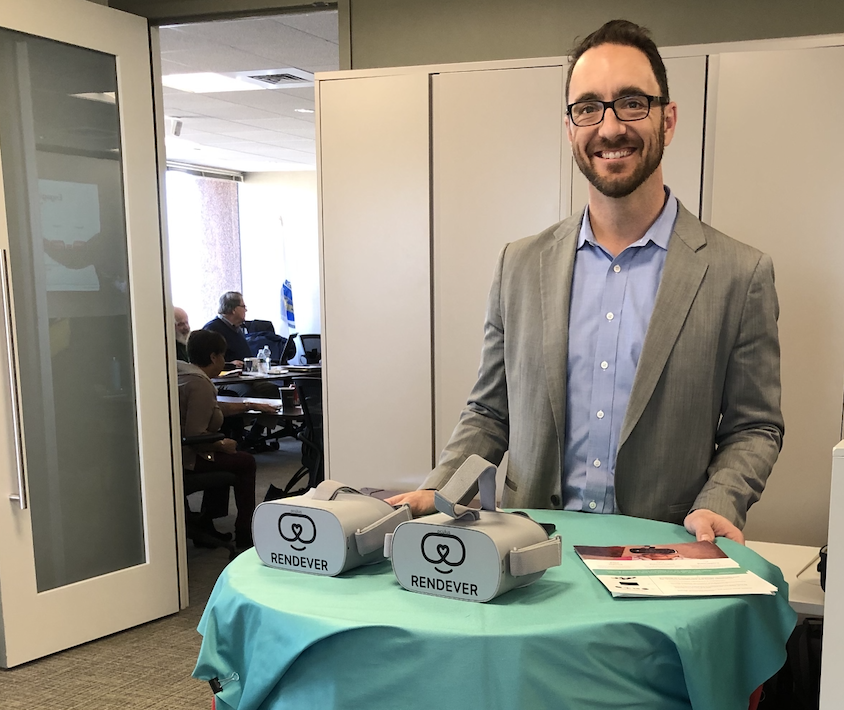 My third day at Rendever, preparing for a demo at AARP's state office in Massachusetts.
On December 3, 2018, I became the fourth Rendever team member. As I envisioned the future, I realized the potential and positive impact we could achieve was infinite, but I certainly did not yet understand the magnitude of what was to come.
Since my first day three years ago, our team has grown from four to 22 rockstars, increased sales by nearly 500%, and has been awarded in ways most companies only dream of. All without the need to raise funds from venture capital firms or other third parties.
How? Through our cofounders' prescience and product-first mentality. They had a grand vision of what Rendever could be in five or ten years and devotedly built a tech infrastructure and UX with this long-term vision in mind. We've never focused on just the next six months. As a result, our team still approaches every task, project, and day with this same mindset, aimed towards the future.
The mindset instilled since day one has allowed us to develop a platform that delivers meaningful impact to those we all serve. As a result, we've seen an acceleration in the use of Rendever, with over half of all the moments delivered happening over the past 12 months alone. Of course, increased usage is a goal we strive to achieve. But, what we consider real success - and what tugs on our heartstrings the most - are the marvelous stories shared by our partners. The biggest benefit of working for Rendever is being brought to tears multiple times a year. I'm sure that sounds weird, crying at work is not normally a good thing. Here, it's because a partner will call you and share a beautiful story about one of their residents, or you'll visit a community and experience something so joyful and inspiring, you can't help but tear up.
This fall, I visited my friend Stephanie Stallings for a demo at her new community. Stephanie is a fantastic individual with a heart ten sizes too big and with such a sincere dedication to her residents. Just reminiscing about that day at her community still brings a tear to my eyes. We have a great video (not of me crying) in our recent blog post that I'm sure will do the same to you. This was the second time I've been present when a resident was able to see again through the aid of one of our virtual reality headsets. Seeing the pure, unadulterated joy when someone sees clearly and in color for the first time in years is something I'll remember for the rest of my life.
I always hype up our Community Engagement team, and it's partially because they frequently energize our entire company by sharing a quote from a partner. There are tons of stories that will pull at your heartstrings, and there are tons that simply make us smile. Recently, a British Columbia partner shared one of my favorite quotes about our RendeverLive™ weekly trivia sessions: "At first when Rendever launched Trivia, resident attendance wasn't high because it runs close to lunch. Now on Wednesdays, our residents say that they know they need to eat lunch fast to get a good seat for Rendever Trivia!".
Don't get me wrong - I love food, we're not trying to interrupt any meals. But, I get it! They need to get a good seat because they regularly have 20+ residents attend our trivia sessions. And, they compete for 1st Place each week against communities spread all across North America.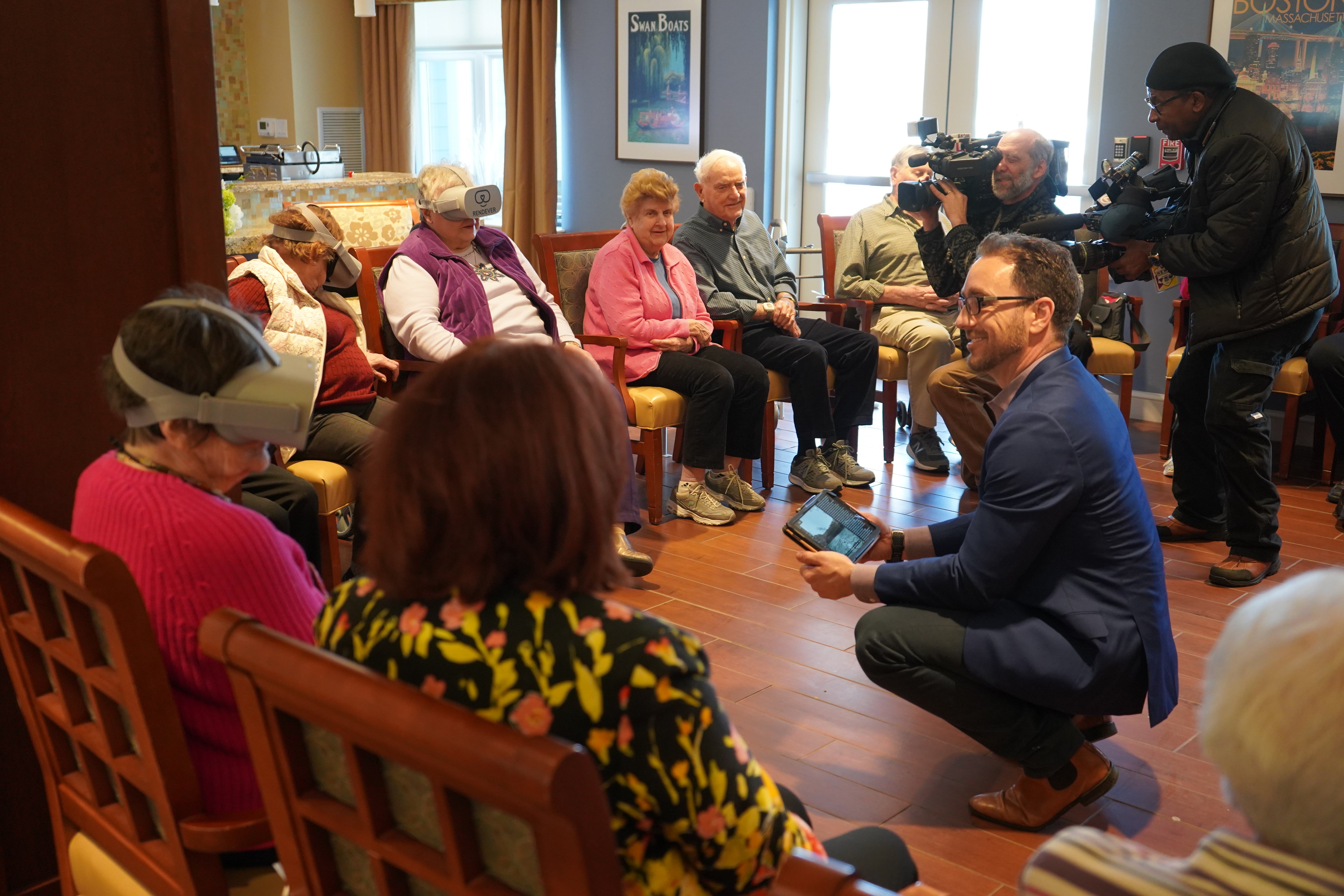 Unveiling a special experience with residents, allowing them to see footage I was lucky enough to capture while riding in the Patriots Parade just after the team won the 2019 Super Bowl. We have some incredible partners helping us build the experiences on our platform.
These moments are something I never take for granted at my job. Luckily, they're happening more and more frequently as we continue to grow and launch new products. New products can be scary for a sales team - this has definitely been the case for me in previous jobs. But it's not the same at Rendever. As a company, we understand what it takes to build momentum in the senior living and healthcare industry, but it doesn't scare us. Grit is one of our four core values. Once we commit to building something, there's an internal understanding: we've also committed to figuring out how it will be successful for our partners. RendeverLive™ is one example of that mentality come to life, having just earned a mention on the coveted Time 100 Best Inventions List.
Our team is lucky that we can confidently sell our current platform as it stands without having to pitch a set of possible features that may never materialize. As our partners already know, Rendever is explicitly designed for their end-users. Intentionally developing a platform with the future in mind and user experience leading the way got us to where we are today and put us in an incredible position for growth.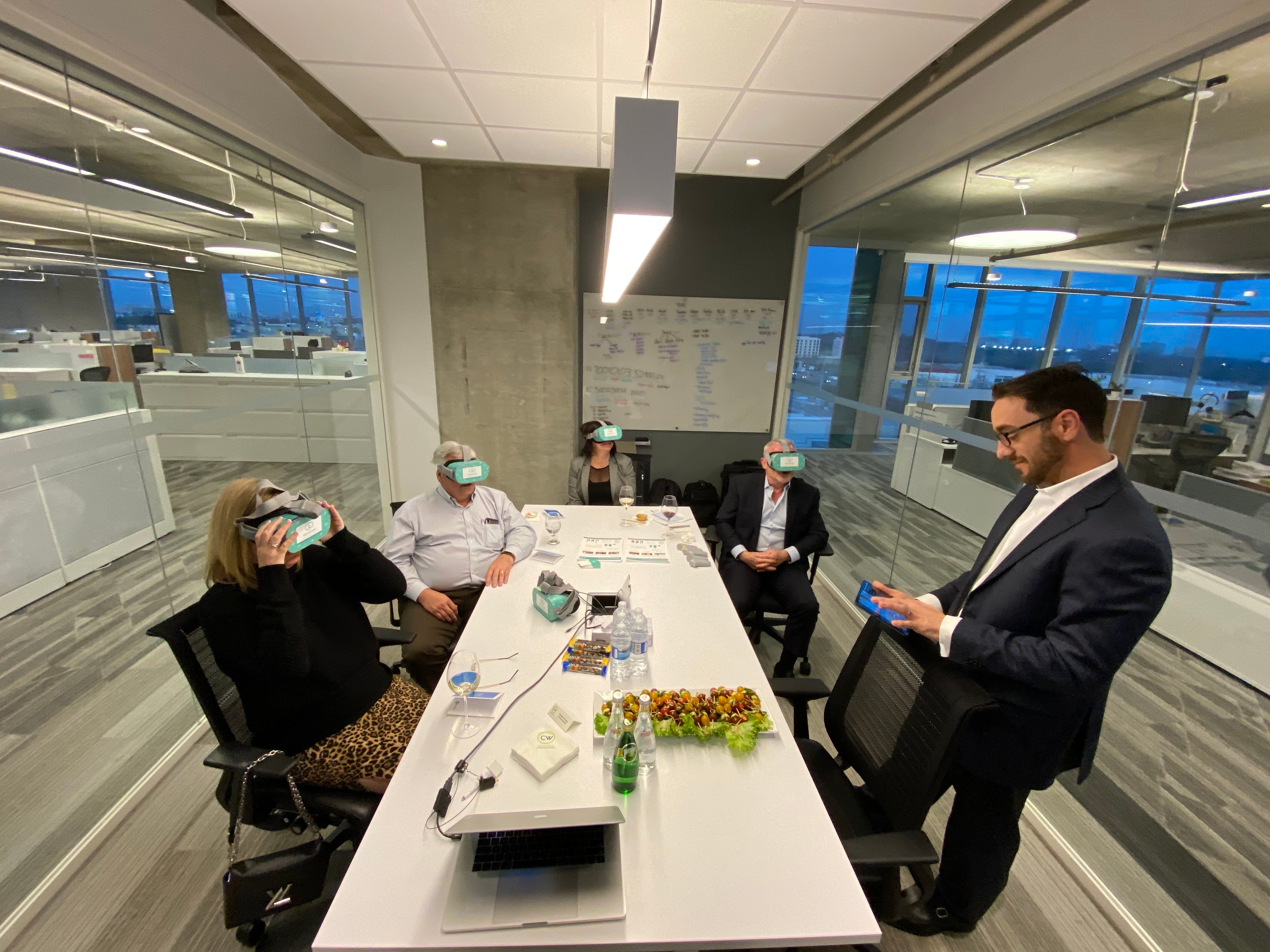 Leading a group demo for the leadership team at Revera. Today, they are one of our largest partners.
We've all heard or experienced the horror stories of communities making investments in innovation and getting burned because the product failed to deliver. Maybe it was because the product lagged behind sales, or it was designed without the correct end-user in mind. Whatever the case, it left the communities high and dry. I've had this exact conversation with multiple potential partners over the past week. As a result, money poorly spent and lost time from precious team members has left many feeling that purchasing "innovative" products is a risky business venture.
As we grow, we are certainly rapidly testing new products and features, but don't do so with the pressure of a "fly high or die" mentality...I've never been a fan of selling future projects or features in sales. Like my father, Chris Abruzzo, taught me, all I have is my word and the earned trust of current and prospective partners in sales. If I promise a future feature but fail to deliver, I've lost people's faith in me and my word. And, if I'm relying on future features to close current sales, what's that say about the product I'm selling?
Since joining Rendever, I've developed a more nuanced thought process. Rendever has opened my eyes to the difference between "selling a future promise" and "selling a future aspiration." We're actively building a future for senior living that is remarkably different from the stereotypes that still sometimes plague the industry. Part of my job is identifying people and companies who see this opportunity for a bright and beautiful overhaul—allowing us to succeed together as we drive forward. Our platform approach enables us to think far beyond what we have today and constantly chart a course that aligns our internal roadmap with the future of the industry we intend to build with our partners.
What we're building feels to us more like a movement, one driving towards a better aging process for all. The partners we onboard are communities that believe in the same possibilities that I do, so it's impossible to do my job without selling the future. This future isn't a sales pitch or specific feature. It's not a detailed product roadmap. It's an enduring commitment to always building the best, with honorable intentions and the sharpest minds making sure that the future is bright for those we are all working tirelessly to serve. and provide a life we would all want for ourselves and deserve.
The most exciting thing for me over the past three years is how my view of future possibilities has become limitless. These days I sometimes wonder if I should reel my vision in a bit...but where is the fun and adventure in putting limits on your future?
I'm very grateful for the trust Kyle and Tom have let me earn, and fortunate to have the backing of the best team I've had in my career. Based on what we've accomplished during my first three years with Rendever, there will be many exciting announcements coming your way over the next three years. I, for one, can't wait.
- Nick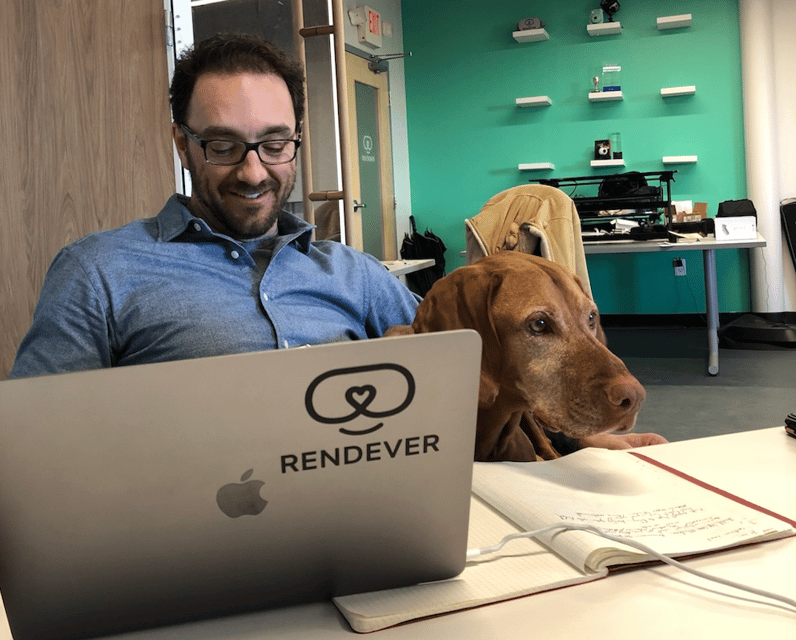 Important perk: I get to work alongside my two Vizslas! Pictured here is Finn taking his favorite position in our first office.
No Comments Yet
Let us know what you think